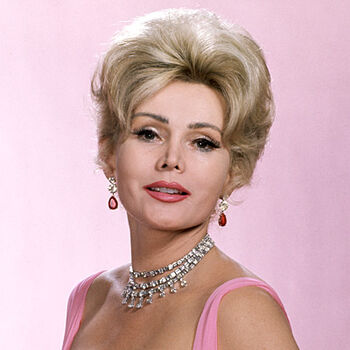 Zsa Zsa Gabor is a Hungarian-born American socialite and actress with roles on Broadway and in the movies and television spanning over thirty years.
Born Sári Gábor on February 6, 1917 in Budapest while it was still part of the Austro-Hungarian Empire, she was the middle of three daughters. Her elder sister Magda was a socialite and her younger sister Eva was an actress and businesswoman. Named after Sári Fedák, a popular Hungarian actress, she began her stage career in Vienna and was crowned Miss Hungary in 1936. Following her studies at a Swiss boarding school, she was discovered by tenor Richard Tauber on a trip to Vienna in 1936 and was invited to sing in his opera where she made her first stage appearance.
Zsa Zsa emigrated to the United States in 1941 and received roles in the movies, "Lovely to Look At," "We're Not Married!," and "Moulin Rouge" in 1952 directed by John Huston. Through the Sixties to the Eighties, she made several TV appearances on "Make Room for Daddy," Gilligan's Island, "Bonanza," "Batman," "The Love Boat" and "The Facts of Life." Her sister, Eva Gabor, became equally well-known for the Sixties TV series, "Green Acres."
Despite her movie roles, Zsa Zsa was known to have a very public lifestyle. She was often mentioned in the society pages and known for having several husbands, including hotel magnate Conrad Hilton, with whom she had a daughter, and actor George Sanders. On June 14, 1989, in Beverly Hills, California, she was accused of slapping the face of a police officer over a traffic violation; a spectacle she later parodied in the movies, "The Naked Gun 2½: The Smell of Fear" and "The Beverly Hillbillies." She has also had a long standing feud with actress Elke Somer which was often played up in the press.
In 2002, she suffered injuries in a car accident that left her partially paralyzed and reliant on a wheelchair for mobility. She also survived strokes in 2005 and 2007 and underwent surgeries. In 2011, her right leg was amputated above the knee to save her life from an infection. Sadly, Gabor passed of a heart attack on December 18, 2016. She was 99.
Episode(s)
[
]