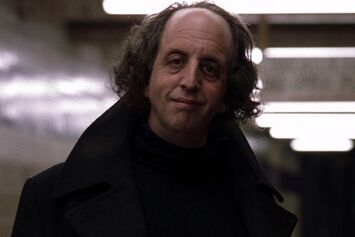 Vincent Andrew Schiavelli is an American character actor best known for his height and drooping emotional face. He was notable for his numerous and often critically acclaimed supporting roles on stage, screen and television. Born November 11, 1948 in Brooklyn, New York, to a Sicilian-American family. He attended Bishop Loughlin Memorial High School as a teen and studied acting through the theatre programme at New York University. He began performing on stage in the 1960s. His first film role was in Miloš Forman's 1971 production "Taking Off." The role granted him a steady stream of supporting roles, including "One Flew Over the Cuckoo's Nest" with Jack Nicholson, Louise Fletcher, Danny Devito, Christopher Lloyd and Brad Dourif. His other screen roles icluded "Amadeus," "The People vs. Larry Flynt," and "Fast Times at Ridgemont High," another star-studded filmed where he played the iconic role of Mr. Vargas, the biology teacher. His television appearances were more sparse with appearances on "Taxi," which starred Danny Devito, "Buffy the Vampire Slayer," "Star Trek: The Next Generation," "Miami Vice," "Punky Brewster," "Highlander: The Series" and "The X-Files."
In 1985, Schiavelli was married to actress Allyce Beasley from "Moonlighting," once guest-starring as the love interest of Beasley's character on one episode of Moonlighting. Their son, Andreas Schiavelli was born in 1987. After their divorce in 1989, Schiavelli married American harpist Carol Mukhalian in 1992.
Schiavelli worked steadily through the Eighties and Nineties, appearing in top grossing movies as "Ghost" with Demi Moore and Patrick Swayze, Tim Burton's "Batman Returns" with Michael Keaton and his old co-star, Danny Devito, and as an expert assassin in the James Bond film Tomorrow Never Dies in 1997 Pierce Brosnan and Teri Hatcher.
In his personal life, Schiavelli enjoyed cooking and wrote a number of cookbooks and food articles for various magazines and newspapers. In 1999, he starred in a 26-episode Italian cooking show called "Chefs of Cucina Amore" that aired on PBS periodically for a few years. He received a James Beard Foundation Journalism Award in 2001. He also served as honorary co-chair of the National Marfan Foundation, an organization which served those affected by Marfan Syndrome, a condition from which Schiavelli suffered himself.
At the age of 57, Schiavelli died of lung cancer on December 26, 2005, at his home in Polizzi Generosa, the Sicilian town where his grandfather was born. He was buried at Polizzi Generosa Cemetery in Palermo, Sicily, survived by his wife Carol and his son, Andreas.
Episode(s)
Edit
---
Community content is available under
CC-BY-SA
unless otherwise noted.