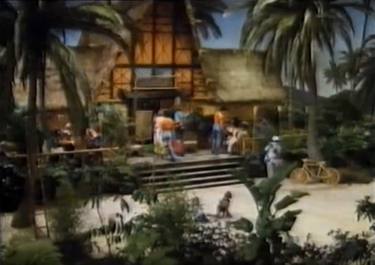 The Castaways is the island resort owned by Mr. Howell and located on the same island on which he was stranded for several years. Lacking cars, telephones and electricity (except for a secret phone for emergency), the resort has been set up for guests to experience the same conditions the Castaways experienced during their time on the Island. The Castaways most likely had their own bungalows on the island; Gilligan and the Skipper had their original hut rebuilt replete with their original hammocks. The Howells possibly stayed on the island full time, with Mr. Howell possibly departing from time to time for business meetings on the main land.

The resort's exact size and scope is unrevealed. It is known the Howells act as hosts to their guests and hold occasional meetings with the Castaways acting as silent partners to plan functions, gatherings and exchange important news. Each of the Castaways still engage in some form the pursuits that they had or desired in the past. The Skipper and Gilligan escort and welcome guests, Ginger entertains the guests in the island cantina and Mary Ann runs an on-site exercise studio. Other employees include Naheeti, the concierge and the Howell's secretary, who keeps their schedule and appointments.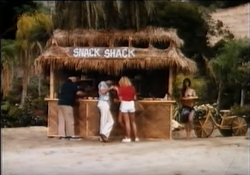 The resort features a lunch hut known as the Snack Shack. Activities and amenities include fishing, scuba diving, massage and gym facilities and hula contests.
Although largely taped in a sound stage, the aerial location shots and hotel in the segue and credits are the Old St. Regis Princeville Resort on Kauai near Moloa'a Bay, which was devastated by Hurricanes in 1982 and 1992. Although it still exists today, it no longer looks anything like it during the making of the movie.
Even though a resort, it is conceivable the location would have some sort of museum that documented the Castaways' history on the Island through their old possessions and relics. This would include objects on display, including the radio, their old transmitter, Kona, Wrongway Feldman's wings, the remains of the Mars Probe, Mr. Howell's old golf clubs, the glasses of the Japanese Sailor, Gilligan's old Sweepstakes Ticket, the camera gear from South Sea Film Productions, the The Mosquitoes's album, the newspaper describing the murder of Randolph Blake, the lid to the Radioactive Vegetables, the Voodoo Dolls of the Witch Doctor, the Bamboo Island Taxi, the Stone Tablet, the XJP Jet Pack (if it returned at all) and the Professor's most ingenious inventions, from the Stethoscope to the Geiger Counter.
The old Army Air Corp site, munitions pit (from And Then There Were None) and the Kupaki Totem Pole possibly would be local sites on the island.
---
Community content is available under
CC-BY-SA
unless otherwise noted.