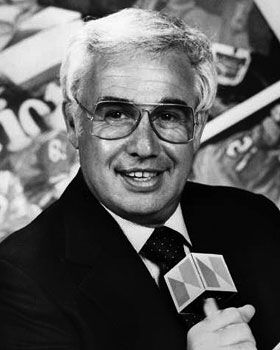 Stu Nahan was a Canadian American sportscaster best known for his television broadcasting career in Los Angeles through the 1950s to the 1990s. As an actor, he is also remembered for his role as a boxing commentator in the first six "Rocky" films.
Born on June 23, 1926 in Los Angeles, California, Nahan moved at the age of two with his mother to Canada, where he grew up playing ice hockey and became a star goalie at McGill University in Montreal, later signing a contract with the Toronto Maple Leafs of the National Hockey League in 1946. He was also assigned to the minor-league Los Angeles Monarchs through the early Fifties.
Nahan eventually began working on a children's television program as "Skipper Stu" in Sacramento in the 1950s, later working at KCRA in Sacramento as a sportscaster. He later moved to Haddonfield, New Jersey near Philadelphia where he hosted his own children's show on the now defunct WKBS-TV as Captain Philadelphia, dressed in an astronaut outfit. During this period, he also provided the play-by-play commentary for the Philadelphia Flyers hockey team at WTAF alongside Gene Hart.
In the Late Sixties, Nahan started working regularly as a sports anchor for almost thirty years, beginning with KABC-TV from 1968 to 1977, KNBC-TV from 1977 to 1986 and KTLA-TV from 1988 to 1999, also working with radio stations KABC, KXTA, and KFWB. He also took roles in the movie industry, mostly playing himself as a sports commentator. In addition to the "Rocky" movies with Sylvester Stallone, Nahan is also remembered for a brief appearance in "Fast Times at Ridgemont High" in 1982 where he interviews Sean Penn as character Jeff Spicoli. He also had a bit part in the TV movie, "Brian's Song," in 1971, going on to play newscasters or sports broadcasters in the movies, "Private Benjamin," The Harlem Globetrotters on Gilligan's Island, "Transylvania Twist" and the TV series "Jake and the Fatman," " "21 Jump Street," "Baywatch," "Martin" and "Sabrina the Teenage Witch."
In January 2006, Nahan began battling lymphoma cancer; he died at his home in Studio City, California on December 26, 2007 at the age of 81. He received a star on the Hollywood Walk of Fame on May 25, 2007.
---
Community content is available under
CC-BY-SA
unless otherwise noted.