Jurassic World: Dominion Dominates Fandom Wikis - The Loop
Play Sound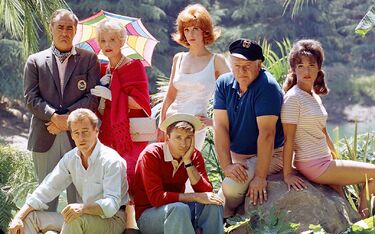 Summary
[
]
This is the first of the three seasons of the classic 1964 TV sitcom, "Gilligan's Island," about seven castaways, who have wrecked their boat on a deserted island. The castaways include clumsy, yet lovable first mate known throughout the show as Gilligan, their warm-hearted leader Jonas Grumby, more commonly known as The Skipper, the millionaire Mr. Thurston Howell III along with his wife, Eunice "Lovey" Howell, known to the other castaways as Mrs. Howell, the beautiful actress Ginger Grant, the professor, Roy Hinkley, known more as the Professor and Kansas farm girl Mary Ann Summers. Each episode deals with different problems that the castaways have to deal with.
Main Cast
[
]
Episodes
[
]
Image
Title
Original Airdate
No. in series
No. in season
Two on a Raft
September 26, 1964
01
1.01
This is the first appearance of the seven castaways. The Skipper and Gilligan fashion a bamboo raft to try to sail to civilization, only to find out their raft can't handle one night in the ocean.
Home Sweet Hut
October 3, 1964
02
1.02
Since the weather they've had has been brutual, everyone wants their own individual hut, but Skipper insists on making one big hut to share. But, when tempers and tension mount, they go off to build their own hut. Ginger and Mary Ann share one, Mr. and Mrs. Howell make their luxury dream hut, Professor makes a nice hut, where he can study, and Skipper and Gilligan make theirs, but can their huts survive accident-prone Gilligan?
Voodoo Something to Me
October 10, 1964
03
1.03
Skipper thinks that the island has been cursed under the spell of voodoo and that his best mate, Gilligan has been transformed into a chimp, after seeing the chimp wearing Gilligan's sailor hat.
Goodnight Sweet Skipper
October 17, 1964
04
1.04
After Gilligan witnesses Skipper changing a radio transmitter in his sleep, he tells Skipper about it, who brushes it off and says that it was Gilligan's dream and not his. The next day, famous Alice McNeil says she will be flying around the world, as Gilligan informs the castaways about Skipper's dream. The only thing is that Skipper can't remember anything about his dream, so the other castaways try everything in their power to help him remember.
Wrongway Feldman
October 24, 1964
05
1.05
After the famous Wrongway Feldman is found living on the island, the castaways beg him to get back to civilization. Wrongway declines it and decides to train Gilligan to fly his plane, but after seeing how incapable Gilligan is, he decides to go himself, but his directions are so inexact that he doesn't give the right information to find where the island is located.
President Gilligan
October 31, 1964
06
1.06
The castaways must elect a president for the island, and it is tied between Mr. Howell and Skipper, but when Gilligan votes for himself, it just leads to more confusion.
The Sound of Quacking
November 7, 1964
07
1.07
A duck shows up, just when food is scarce. Everyone votes to take the duck, kill it, and turn it into food, but Gilligan is intent to protect his web-footed friend.

Note: Mel Blanc voices the duck.

Goodbye Island
November 21, 1964
08
1.08
Gilligan finds "maple syrup glue", and soon the castaways find the potential of this glue and try it on the boat. It works perfectly, and they find out that they can leave the island, but soon Gilligan finds out that this glue is only temporary and has to tell the other castaways before the boat falls apart again.
The Big Gold Strike
November 28, 1964
09
1.09
Gilligan finds a cave full of gold, but he must share it with Mr. Howell, who insists that this cave is his. He is soon is charged in gold for everything, such as meals. How will this gold strike affect the castaways?
Waiting for Watubi
December 5, 1964
10
1.10
Skipper finds a supposed cursed idol of the god of evil, Kona, and believes that he is doomed and that the only one that can cure him is the Watubi. So, Gilligan poses as the Watubi, with Ginger and Mary Ann as his assistants.
Angel on the Island
December 12, 1964
11
1.11
Ginger, having an idea to make an off-broadway play of Cleopatra, goes to Mr. Howell, who agrees to back her play, but soon Mrs. Howell believes, instead of Ginger, she should play Cleopatra. Gilligan soon steps in and sets things straight.
Birds Gotta Fly, Fish Gotta Talk
December 19, 1964
12
1.12
Christmas has come to the island, and each of the castaways wish to be rescued. They think back to that fateful day, when they landed on the island. Suddenly, Santa shows up to remind them of all they have to be thankful for. But is Santa just the Skipper?
Three Million Dollars More or Less
December 26, 1964
13
1.13
After Gilligan sinks a putt that Mr. Howell has been trying forever to sink, Mr. Howell bets a quarter that he can't do it again. Mr. Howell keeps betting double or nothing every time Gilligan sinks a putt and, in no time, soon racking up three million. However, Mr. Howell can't stand losing one cent of his money and wants it back.
Water Water Everywhere
January 2, 1965
14
1.14
Water is becoming scarce, and the Professor wants to save it. But, when Gilligan drains the water supply, each castaway is scrambling to find some more water. The Howells do a rain dance, and Skipper makes a divining rod, but nothing can replenish the water supply, until Gilligan finds a frog, which leads him to a cave full of water, thus replenishing the water supply.
So Sorry, My Island Now
January 09, 1965
15
1.15
A Japanese sailor, portrayed by Vito Scotti, still stuck in the past during World War II, finds the island and captures five of the castaways. Gilligan and Skipper find his submarine, and Gilligan tries to cruise the submarine back to civilization, only to find everything written in Japanese.
Plant You Now, Dig You Later
January 16, 1965
16
1.16
Gilligan finds a locked treasure chest, but Mr. Howell, the employer, believes that it is his. It leaves His Honor, The Professor, to decide who it rightfully belongs to. Meanwhile, Mr. Howell decides to buy out each of the castaways' shares.
Little Island, Big Gun
January 23, 1965
17
1.17
After robbing a bank, the robbers decide to hide out on the island. After finding that it is occupied by the castaways, the gangster poses as a doctor, to cause less suspicion.

Notes: Jackson Farrell portrayed by Larry Storch.

X Marks the Spot
January 30, 1965
18
1.18
Good News: The Air Force decides to test launch a new missile. Bad News: They chose the island with the castaways living on it. Now it falls on the smallest of the group, Gilligan, to disarm the missile.
Gilligan Meets Jungle Boy
February 6, 1965
19
1.19
Gilligan meets Jungle Boy, portrayed by Kurt Russell, and brings him to the castaways. As they try to teach him English, Jungle Boy suddenly flies the coop with the homemade balloon the castaways have made, filled with a natural supply of helium.
St. Gilligan and the Dragon
February 13, 1965
20
1.20
The women, tired of being held subservient to the men, decide to go and make their own camp. The men know the women will never survive and come back, but soon both sides find it hard to live without the other half.
Big Man on a Little Stick
February 20, 1965
21
1.21
The surfer, Duke Williams, lands on the island and claims to have ridden a tsunami. He doesn't want to leave, because of Ginger and Mary Ann, but when he finds out that they have "boyfriends", he is pleased to leave.
Diamonds Are an Ape's Best Friend
February 27, 1965
22
1.22
An ape is on the loose and steals Mrs. Howell's diamond brooch. The group of castaways soon find out the ape is only after Mrs. Howell's perfume.
How to Be a Hero
March 6, 1965
23
1.23
After one too many times of Gilligan being so close to being a hero, but having it slip away, it leaves him feeling down in the dumps, so the castaways devise plans for Gilligan to become a hero.
The Return of Wrongway Feldman
March 13, 1965
24
1.24
Wrongway soon returns to escape the hustle and bustle of civilization and simply will not be convinced to go back, so the castaways hatch a plan to send him back to civilization and to get the right location for their island too.
The Matchmaker
March 20, 1965
25
1.25
Mrs. Howell misses the busy social season of civilization and love, so she tries to pair up Gilligan and Mary Ann. This creates a rift between her and Mr. Howell and results in a temporary battle between them. The castaways decide to recreate the scene of Mr. Howell's proposal at the famous, fancy French restaurant named the "Tour D'Argent".
Music Hath Charms
March 27, 1965
26
1.26
After seeing Gilligan with a homemade drum, it gives the magnificent idea to Mrs. Howell to create a orchestra, but another nearby tribe also gets an idea: to attack!
New Neighbor Sam
April 3, 1965
27
1.27
Gangsters' voices are being heard, speaking of a way to get off the island, but they soon find out the voices are just from a parrot.

Notes: Mel Blanc voices the parrot.

They're Off and Running
April 10,1965
28
1.28
The Skipper and Mr. Howell have been turtle racing, and Mr. Howell's turtle always wins. Several attempts are made by different people to switch the turtles so that the Skipper's turtle will win, but before the last race the Skipper still has the slow turtle. In the last race, Skipper bets Gilligan's prized pocket knife. How can the Skipper win? Will Mr. Howell humble himself and allow himself to be defeated?
Three to Get Ready
April 17, 1965
29
1.29
Gilligan finds a secret jewel that seems to have magic powers, and the Skipper wants to use it to get them rescued.
Forget Me Not
April 24, 1965
30
1.30
The Skipper gets amnesia right at the moment the Castaways have a chance to be rescued.
Diogenes, Won't You Please Go Home?
May 1, 1965
31
1.31
The castaways learn Gilligan has a diary, and the Skipper, Ginger, and Mr. Howell reimagine their encounter with the Japanese soldier.
Physical Fatness
May 8, 1965
32
1.32
The Skipper needs to lose weight and Gilligan needs to gain weight so they can qualify to join the Navy after their anticipated rescue. The Skipper goes on a crash diet and Gilligan eats as much as he can, including the fluorescent dye meant to alert a rescue ship.
It's Magic
May 15, 1965
33
1.33
Gilligan hooks a huge crate filled with magic-trick items the castaways hope they can someday use to scare away invading natives, but when Gilligan annoys the others with them, he disappears from camp after learning they think of him as a nuisance.
Goodbye Old Paint
May 22, 1965
34
1.34
Gilligan pretends to be a good artist in an attempt to get a transmitter from the old artist who has been living on the island.
My Fair Gilligan
June 5, 1965
35
1.35
To reward Gilligan for saving Mrs. Howell's life, the Howells' adopt Gilligan as their son and heir. They set forth teaching Gilligan table manners, etiquette and their lifestyle and beliefs. But Gilligan isn't happy being a Howell, and must find a way to return to his old lifestyle without hurting the Howells' feelings.
A Nose by Any Other Name
June 12, 1965
36
1.36
A fall from a coconut tree gives Gilligan an inflated nose and a deflated ego.