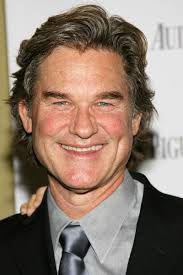 Kurt Vogel Russell is a former American child actor who starred for ten years as one of the top-rising talents of Walt Disney Studios. Today, he is best known as a prominent American actor and director.
Born March 17, 1951 in Springfield, Massachusetts to actor Neil Oliver "Bing" Russell and Louise Julia Russell, a dancer, he is of English, German, Scottish, and Irish descent. His first acting roles included a lead role in the Western series, "The Travels of Jaimie McPheeters" from 1963 to 1964 and small roles in "Gilligan's Island," "Laredo" and "Lost In Space." In the 1970s, he signed his ten-year contract with the Walt Disney Company, where he appeared in "Daniel Boone" and "The Computer Wore Tennis Shoes."
In 1963, he landed a part in the Elvis Presley movie, "It Happened at the World's Fair," but once his stint as a child actor ended, he spent the early Seventies playing minor league baseball. In 1979, he played Elvis Presley in an ABC TV-movie directed by John Carpenter. His friendship with Carpenter landed him roles in "Used Cars," "Escape from New York," "The Thing" and "Silkwood" with Meryl Streep. In 1983, he became re-acquainted with actress Goldie Hawn, his co-star from "The One and Only, Genuine, Original Family Band." Well-known for her work with the 1960s variety-comedy series "Laugh-In," Hawn worked with Russell on "Swing Shift" in 1984, and have lived together ever since.
His following films were a series of failures, except perhaps for "Big Trouble in Little China" in 1986, which became something of a cult hit. He briefly returned to Disney Studios to voice adult Copper in the animated Disney film, "The Fox and the Hound," then landed "Tango & Cash" in 1989 after actor Patrick Swayze dropped out of the film. He then replaced Dennis Quaid in "Backdraft" with actor William Baldwin in 1991, which re-established him as a top star. Russell and Hawn lived for a time on a 72-acre retreat named Home Run Ranch near Aspen, Colorado with his two sons, one from a brief marriage to actress Season Hubley and another with Goldie Hawn. In February 2003, Russell and his family moved to Vancouver, British Columbia, so that their son could play hockey. He is also known as a FAA licensed private pilot and an Honorary Board Member of the humanitarian aviation organization, "Wings of Hope."
Community content is available under
CC-BY-SA
unless otherwise noted.