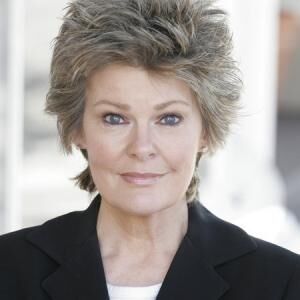 Joan Roberts is an American actress. She was born February 19, 1952 in Washington, D.C. and raised in McLean, Virginia. Attending West Virginia University and the American University majoring in drama and speech, she toured with the U.S.O. and later joined WRC/NBC radio in Washington, D.C as a staff announcer and local radio personality. She quickly became one of the areas most sought after voice-over talents. While filming on location in Los Angeles, she signed with an agent and began a busy career guest starring in numerous television shows, including "Designing Women," " Three's Company," "Archie Bunker's Place," "Fantasy Island," "Matlock" and "Small Wonder," among several movies, including The Castaways on Gilligan's Island.
In 1981, Roberts was starring on the CBS television series, "Private Benjamin," and met CBS network executive Dwayne Hickman, the former star of the classic television series, "The Many Loves of Dobie Gillis." They married two years later. During her acting career, she was encouraged by Linda Bloodworth Thomason, creator of "Designing Women" to become a writer. Roberts wrote several scripts for the series as well as columns for various magazines and newspapers, slowing down after the birth of her son, Albert Thomas Hickman, in 1992, although she later continued to concentrate on her writing and voice-over career. In 1994 she co-authored with Dwayne Hickman his critically acclaimed autobiography, "Forever Dobie...The Many Lives of Dwayne Hickman."
After Hickman left the CBS and began directing half-hour comedies, Thomas started doing voice-overs and later became contributing editor of "Art Affairs Magazine," writing many of the magazine's cover stories. They formed, Hickman/Roberts Productions, Inc. and began publishing limited edition canvas prints of his artwork. One of a small group of successful voice talent to work in the area of political narration, Roberts was the female voice for John McCain's 2008 Presidential Campaign. She now presides with her family in Los Angeles, California.
Episode(s)