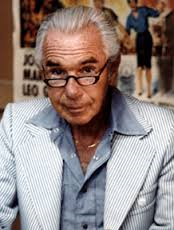 Born October 14, 1916, Jack Arnold Waks grew up in New Haven, Connecticut. As a child, he read a lot of science fiction, which laid the foundations for his interest in science fiction. During World War Two, he was a member of the Army Air Corp with the intent of becoming a writer, but he was instead a member of the Signal Corp where he learned the techniques of film making from filmmaker Robert Flaherty. Dropping his last name to sound more professional, he later became one of the leading filmmakers of 1950s science fiction films, including "It Came from Outer Space," "Creature from the Black Lagoon," "Tarantula" and "The Incredible Shrinking Man." He also worked successfully in television through the Fifties and Sixties with several episodes of "Science Fiction Theater," "Perry Mason," "The Fall Guy," "The Brady Bunch," "Gilligan's Island" and "Wonder Woman." He also directed a few made-for-TV movies, such as the 1980 movie "Marilyn: The Untold Story." He died of arteriosclerosis in Woodland Hills, Los Angeles, California at the age of 75.
Community content is available under
CC-BY-SA
unless otherwise noted.