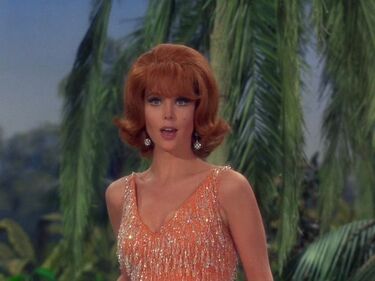 I Wanna Be Loved by You is a popular show tune from the Late 1920s; it was written by songwriters Herbert Stothart and Harry Ruby with lyrics by Bert Kalmar for the 1928 musical "Good Boy." Sung either comically or romantically, it was first performed in 1928 by Helen Kane, better known in 1920s Hollywood as the "Boop-Boop-a-Doop Girl" because of her baby-like voice. Later becoming her signature song, it was also connected to cartoon character, Betty Boop, who was modeled after Kane.
In 1950, the song was performed by Debbie Reynolds and Carleton Carpenter in the movie, "Three Little Words," with Reynolds's voice dubbed by Helen Kane. It has since been chosen as one of the Songs of the Century in a survey by the Recording Industry Association of America and made famous by actress Marilyn Monroe in the movie, "Some Like It Hot."
Ginger Grant sings the song on at least one occaison for the castaways to entertain them. Her performance so impresses Mary Ann that she takes on Ginger's personality and identity after hitting her head. However, when Mary Ann tries to sing the song, her lack of talent makes her uncomfortable and she faints, snapping out of her amnesia.
"I Wanna Be Loved by You" has also been recorded by performers Vaughn De Leath, Annette Hanshaw, Jack Lemmon, Frank Sinatra, Miss Miller and The Chipettes, Rhonda Towns, Rose Murphy, Tina Louise, Verka Serduchka, Patricia Kaas, Sinéad O'Connor, Jinx Titanic, Shiina Ringo, Paul Manchin, Claire Johnston, Lorraine Allan, Eve's Plum and Barry Manilow (in a duet with the Marilyn Monroe recording) among others.
---
Community content is available under
CC-BY-SA
unless otherwise noted.