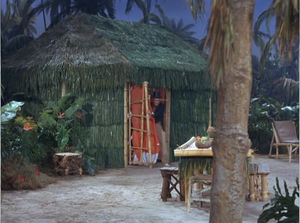 The Howell's Hut is the island residence of Mr. Howell and Mrs. Howell. During the first year on the island, it seemed to have an enclosed entrance, later receiving it's double orange curtain doors. It has served as the scene of some of their most spectacular fights on the island. Ginger and Mary Ann often come by to clean it for them, although Mr. Howell can be quite fastidious in how it should be represented (with his polo stick right side up and swagger stick pointed toward Oxford). It was made up as the Tour Dargent in The Matchmaker and as a military hospital in Forward March.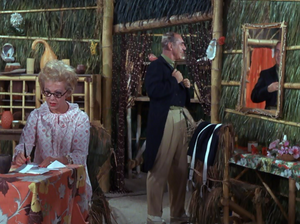 The Howell's Hut is represented by two bamboo and reed doors covered in red curtains and a window with flowered red curtains. It has a number of handmade furnishings such as twin beds with elaborate headboards, thatched chairs, Mrs. Howell's perfume table, a writing desk, a bedside table, a bamboo fan, a bamboo hutch with flowers in a bamboo vase with other decorations. It also has a hidden safe in the wall and a separate room accessed by a beaded entry-way where they store their clothes and luggage. Gilligan slept in this room during the short time he was their adopted son. Mr. Howell also had a bamboo pool table in here.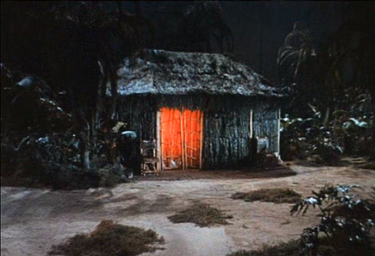 ---
Community content is available under
CC-BY-SA
unless otherwise noted.