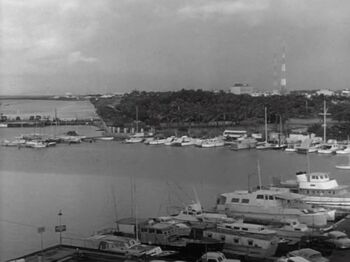 Honolulu is the state capital of Hawaii, and its most populous city in the state of Hawaii. Situated on the island of Oahu, it is the county seat of the City and County of Honolulu and a major tourist destination, considered the main gateway to Hawaii and a major gateway into the United States. Both the westernmost and the southernmost major American city, it is also a major hub for international business and military defense, as well as famously being host to a diverse variety of east-west and Pacific culture, cuisine, and traditions.
Honolulu is also the home port of the Skipper's excursion and tour business with the S.S. Minnow and Gilligan, a Pennsylvania native, as his First Mate. It was also the home of Blake's Boating Supplies Shop where entrepreneur Randolph Blake worked and was found dead by accidental means. Wrongway Feldman landed here after leaving the Castaways. Most of the Castaways's radio transmissions probably come through Honolulu.
The First Season opening was filmed at the Ala Wai Yacht Club in Honolulu, Hawaii.
The Second and Third Season openings were actually filmed at Marina Del Rey in Los Angeles, California. The rock jetties seen during the opening theme during the line, "three-hour tour," are from the entrance to nearby Newport Bay. Marina Del Rey also stood in for Honolulu in Rescue from Gilligan's Island.
Additional opening footage comes from Alamitos Bay Marina in Long Beach, California.
---
Community content is available under
CC-BY-SA
unless otherwise noted.