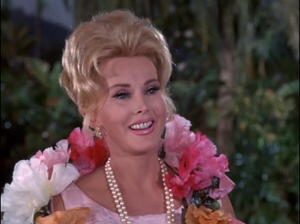 Lady Erika Tiffany Smith is a socialite acquaintance of Lovey Howell who lands on the island, although she shows some disdain for her since her name appeared in social register before theirs while Erika was engaged to the head of the committee. Her full title identifies her as the Countess of Capri, the Baroness of Blenford and Duchess of Devonshire and Smith. Ginger remarks that Erika owns hotels, yachts, diamond mines, a railroad and movie studios in London, Hollywood and Rome. With her yacht located two miles off shore, she is left to explore the island alone by her male steward Johnny to consider a resort there for the elite and runs into the Skipper, who falls for her. Unfortunately, Erika finds herself attracted to the Professor who only appreciates her for her mind, a sentiment she doesn't exactly share. Mr. Howell discusses with her the potential that the island has as a resort, an idea he himself has had in the past. Erika promises to take the castaways off the island, but quickly after returning to her yacht, a storm comes up that night. In the morning, she is no where to be found and the U.S. Navy notices her log book has no latitude or longitude and can't be deciphered because it's been written in Hungarian!
---
Community content is available under
CC-BY-SA
unless otherwise noted.