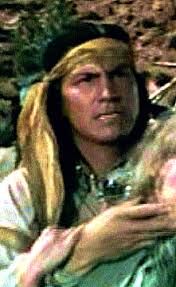 Eddie Little Sky was a native American actor possibly best known for his multiple appearances on television Westerns and his appearances on "Gilligans's Island".
Little Sky born August 15, 1926 as Edsel Wallace Little on the Pine Ridge Indian Reservation in Shannon County, South Dakota to Oglala Lakota parents, Wallace Little, Sr. and Wileminna Colhoff. He also served in the United States Navy and worked as a bull rider and bareback rider in the rodeo. As an actor, he took the name "Eddie Little Sky" and starred in numerous in numerous feature films and over sixty television shows, mostly Westerns, playing Native Americans at a time when most Indians were often played by white actors under heavy make-up. He was one of the first Native American actors to play Native American roles and is best remembered for his performance as Black Eagle in "A Man Called Horse" in 1970. He was also technical adviser for the movie, "Soldier Blue." During the Fifties and the Sixties, he made multiple appearances on television, notably on "The Rifleman," "Maverick," "Have Gun With Travel," "Cheyenne," "wagon Train" and several natives on three episodes of "Gilligan's Island," once using a Native American war cry in a scene with Tina Louise.
Retiring from acting in 1970, he worked as a director for the Oglala Lakota Tribal Parks and Recreation Authority. He and his wife, Native American actress Dawn Little Sky, had five children, Dawn Renee Little Sky, Beau Little Sky, Todd Little Sky, Stephen Little Sky, and Prairie Rose Little Sky. He passed away on September 5, 1997 at the age of 71 in Pennington County, South Dakota from undisclosed causes. He was interred at the Flat Family cemetery in Oglala, South Dakota.
Episode(s)
[
]
---