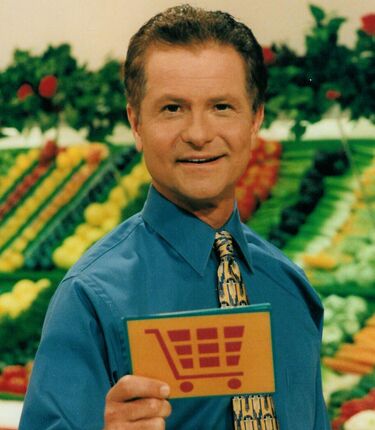 David Martin Ruprecht is an American actor and writer primarily known for his work as host of the Lifetime/PAX game show, "Supermarket Sweep." He was born in St. Louis, Missouri on October 14, 1948 to a Lutheran minister. Nothing is known about his early career, but he has starred on numerous TV Shows through the 80s and 90s, including "Benson," "Quincy, M.E," "st. Elsewhere," "Married... with Children" and "Punky Brewster." He also had a recurring role on "Three's Company" as Philip Dawson, the character who married Joyce DeWitt as Janet Wood going into the series finale. He also starred on the day-time drama, "Days of Our Lives," and had roles in the movies, "The Incredible Shrinking Woman," "Jekyll and Hyde... Together Again" and "Taking Care of Business" and The Harlem Globetrotters on Gilligan's Island, where he played the role of Thurston Howell IV, the son of Thurston Howell III, replacing Jim Backus, who at the time was too ill to reprise his role except for a brief cameo. From 1990 through 2003, Ruprecht was the host of Lifetime Television's "Supermarket Sweep," but he still found time to make appearances on "Doogie Howser," "Sisters," "Beverly Hills 90210," "Family Law," "The Drew Carey Show," "Joan of Arcadia" and "Cold Case." In many of his TV appearances, he plays an interviewer or broadcaster on radio or television.
Ruprecht also starred in the Broadway and Showtime productions of "Perfectly Frank" and did voice-over work for the 1985 animated series "Yogi's Treasure Hunt." He also hosted the live stage show version of "The Price Is Right" at casinos in Las Vegas, Atlantic City, Mississippi and Connecticut. He has also hosted "Family Feud Live" and is currently is one of the hosts of "The Price Is Right Live" Stage Show at Bally's Las Vegas.
Today, Ruprecht currently serves on the board of directors for the Downsize DC Foundation and is a member of the Libertarian Party. Currently a practicing member of the Lutheran Church–Missouri Synod, Ruprecht is a former Executive Director of the Libertarian Party of California and is a long-time member of Rotary International. He is married to choreographer Patti Colombo.
Community content is available under
CC-BY-SA
unless otherwise noted.