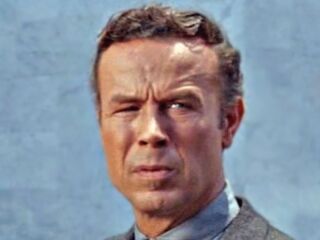 Born December 28, 1913, Charles Carlton Maxwell is an American television actor known primarily for Westerns. Not much is known about his career, but he seems to have been a stock character known specifically for playing numerous gunslingers on TV shows such as "Gunsmoke," "Lawman," "Rawhide," "The Rifleman" and "Bat Masterson." Like actors Michael Forest, Michael Witney and Stanley Adams, he also appeared on the cult sci-fi series "Star Trek," playing of all things, Western lawman Virgil Earp in the episode "Spectre of the Gun" in 1968.
Maxwell also appeared on "Bonanza" several times playing eight entirely different characters. He was also a regular on the short-lived TV series, "The Hank McCune Show," and between Westerns, he had his longest-running role ever as the unseen uncredited radio announcer on numerous episodes of "Gilligan's Island." Most of his appearances have been identified; in several episodes, Sherwood Schwartz sometimes asked real newscasters like Al Schottelkotte, Eddie Gallaher and John Reed King to read radio announcements in the series.
Maxwell passed away on August 7, 1993; he was 79.
Episode(s)
[
]
---